Therapies

Swedish Massage is the gentle manipulation of the body's soft tissues, to stimulate circulation and relieve muscle spasm. Swedish massage consists of various movements which form the basis for all massage work. It can be used superficially to produce an all over relaxing effect or it can be used to affect the deeper tissues. It is a very effective form of massage, and can help with reducing pain and swelling, reducing anxiety and help with relaxation, improves sleep, and generally boost the immune system.

Remedial & Sports Massage involves the manipulation of the body's deep tissue to reduce muscle tension, increase muscle flexibility, and generally improve recovery. Can help relieve conditions such as back and neck pain, sciatica, repetitive strain injury, and frozen shoulder. Great for reducing and then preventing the pain of sports injuries, experienced by most athletes at some point in their career.

Advanced Remedial Massage involves more specific techniques and examination procedures used with Swedish, Remedial and Sports massage to treat lesions of joints e.g. frozen shoulder, tennis elbow, muscle imbalances affecting structure and leading to back pain.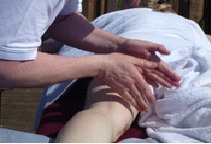 Sports Event Massage course leads the student through more specific anatomy of sports injuries, examination procedures and specific techniques for injury and rehabilitation of sports people. Sports "Pitch-side" First Aid, taping & strapping, working with heat & ice are all included.

Reflexology involves applying pressure to reflex points on your feet and/or hands. A deeply relaxing, but effective therapy for all ages, intended to create balance, restore and maintain health. Ideal for general stress relief, relaxation and health maintenance. Can help with physical and emotional complaints, including arthritis, asthma, backache, digestive disorders, fatigue, headaches, high blood pressure, insomnia, PMT and menopausal problems.

Clinical Aromatherapy is the use of essential oils to provide therapeutic effects. The oils work with the body's natural processes, to create spiritual, emotional, mental and physical effects, to treat the whole person and not just a symptom – the holistic approach. Plants and flowers have been used for their properties as incense, in cooking, for their medical properties, embalming and in luxury perfumes throughout history and in different cultures. Clinical Aromatherapists are qualified to make up essential oil prescriptions for their clients. Massage is often used, but not always - often a lighter form of application may be more appropriate such as a steam inhalation, a cream or warm compress.

On-Site Chair Massage involves the used of a specially designed chair to support the fully clothed client who then receives his/her massage. The specific massage routine is based on Amma Massage and lasts 15-20 minutes. The client is first relaxed and then re-energised by working over 100 acupressure points on the back, neck, shoulders, head, arms and hands. Therapists can be found nowadays in the workplace, shopping malls, airports, and at sporting events.

Indian Head Massage is a traditional method of easing tightness in the scalp and upper body, in a non-intrusive manner. Indian Head Massage brings many physical benefits including releasing tension headaches, eye strain and easing neck and shoulder pain.